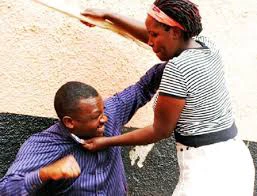 The man who allegedly tried to strangle his wife to death on Saturday Night but was arrested by police on Monday night has been granted bail by the police.
The man who had boosted and vowed in the presence of the DPO on Monday night When He came to fulfill his promise at the beer parlour operated by his wife that he will go ahead with his threat anytime he is released by the police.
Recall that his wife had reported case of strangulations to human rights advocate and the incidented the matter at the open door police division Ada-George area in Port Harcourt That her husband allegedly tried to strangle her to death but was today granted bail by the Police after the wife said she is not ready to press charges against him but want a separation.
One of The man's family member who is a reputable person signed his bail bond. The family of the man and woman was at the station. The Police at the open door Police Station Ada George, PH. had asked both of them to refrain from any acts that will lead to violence or threat to life and adjourned the next meeting to Tuesday next week. The Police said they are only interested in the criminal aspect of the matter and protection of life and property. Meanwhile the husband and the wife both said they want a divorce. So the man has even left the house as at today afternoon. Our interest in the matter is to ensure there is no loss of life .
Investigations shows that the main problem of this couple is lack of trust, jealousy and flirtious attitude of the beautiful wife.
for the Man: One of the problem is the beer parlour business the lady is operating. A very big and popular once which men of substance besiege including high profile politicians in the state.
The man is no longer comfortable with the way the male customers admires the wife .
Secondly some irresponsible men touch beer parlour female operators most time and the ladies working in the beer parlour will apply wisdom not to lose their customers.
Wisdom and tolerance is important in marriage.