Popularly Nigerian actor and Politician Desmond Elliot, who's is a member of the Lagos House of Assembly, has come under fire from many Nigeria's who listen and watch a viral video of him calling the EndSARs Protesters "children", who went about abusing the social media platforms.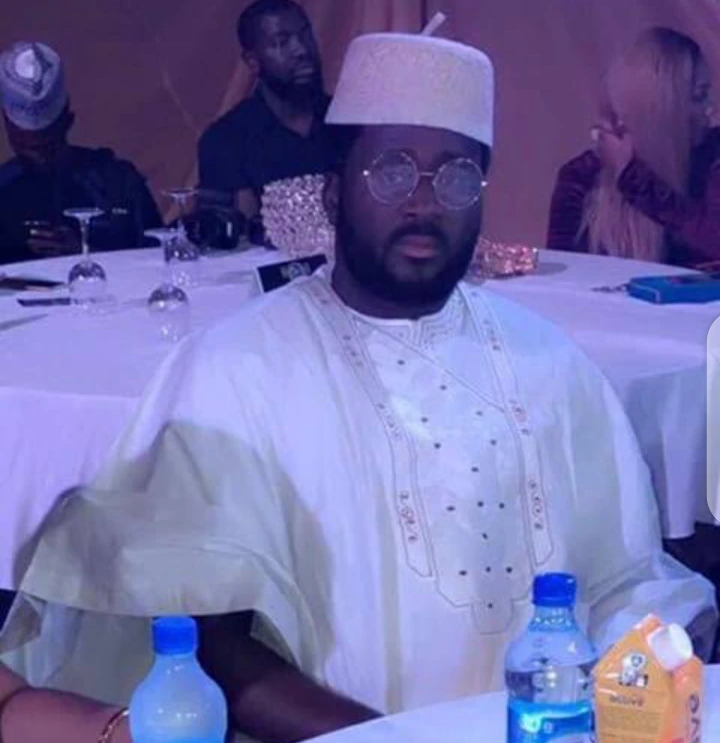 In the viral video which seems to have circulated on social media, the Nigerian actor was addressing the Lagos House of Assembly on how he feels about the just concluded EndSARs Protest. His comments during the address which shows he was speaking in support of the bill to regulate social media.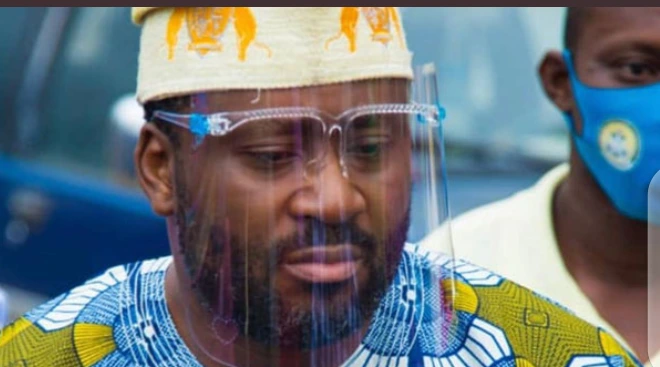 His views about regulating the social media platform have caused outrage from youths on social media, especially the part he referred to them as children. Many people believe that he's doing all that because he was a product of godfather.
Speaking about godfather, barely 24 hours after he made that speech, Mrs. Aisha yesufu revealed on her verified Twitter handle the position she wants in politics, and it not even the seat of the President.
See the Position Mrs. Aisha yesufu revealed she wants.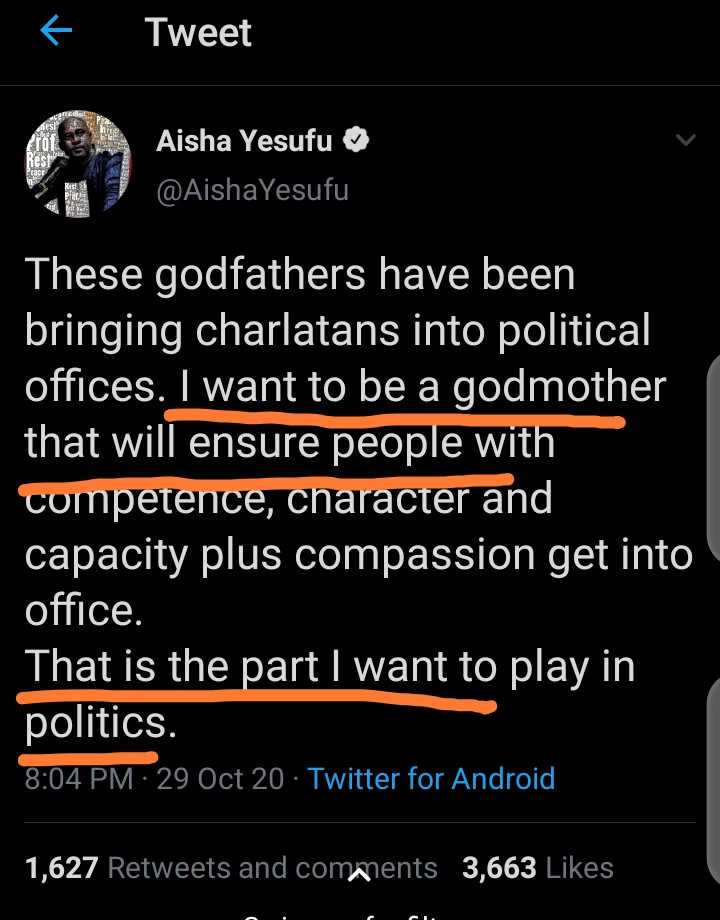 @AishaYesufu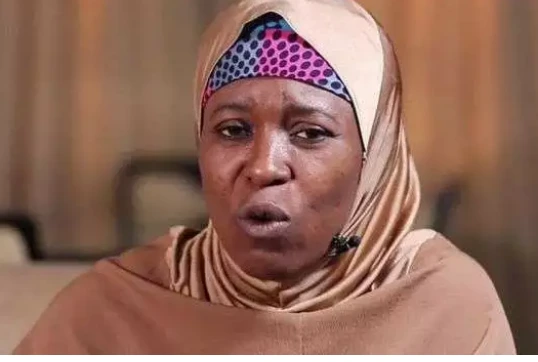 "These godfathers have been bringing charlatans into political offices. I want to be a godmother that will ensure people with competence, character, and capacity plus compassion get into office. That is the part I want to play in politics."
See how Nigerians Reacted to her choice of office in politics.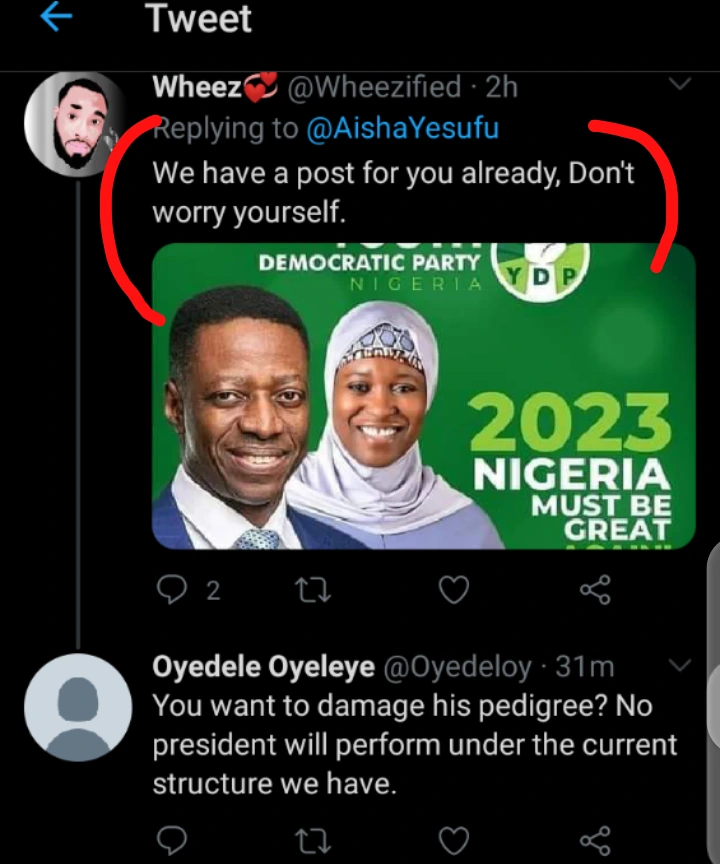 @Gambit "@AishaYesufu local govt elections are nearby..it's time for a new party to emerge and start occupying such position…if we miss this chance, it will be hard to drive change because good governance starts at grassroots level..that is the place where you sensitize people also."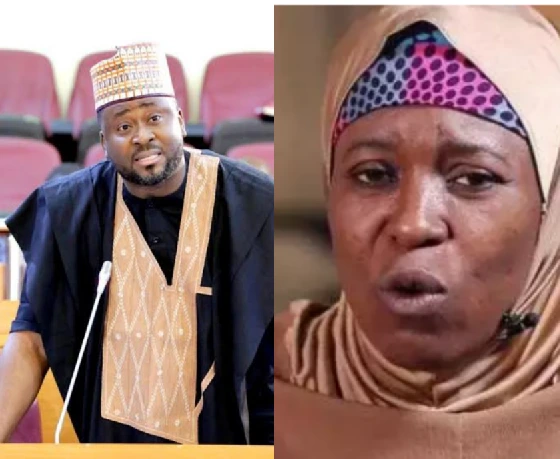 @Onyeka "@AishaYesufu rather be a politician whose life will be the perfect script any young generation would want to play again in politics. The new country we need should purge all forms of God anything. Only character/competence/empathy/goodness etc wins #EndSARS."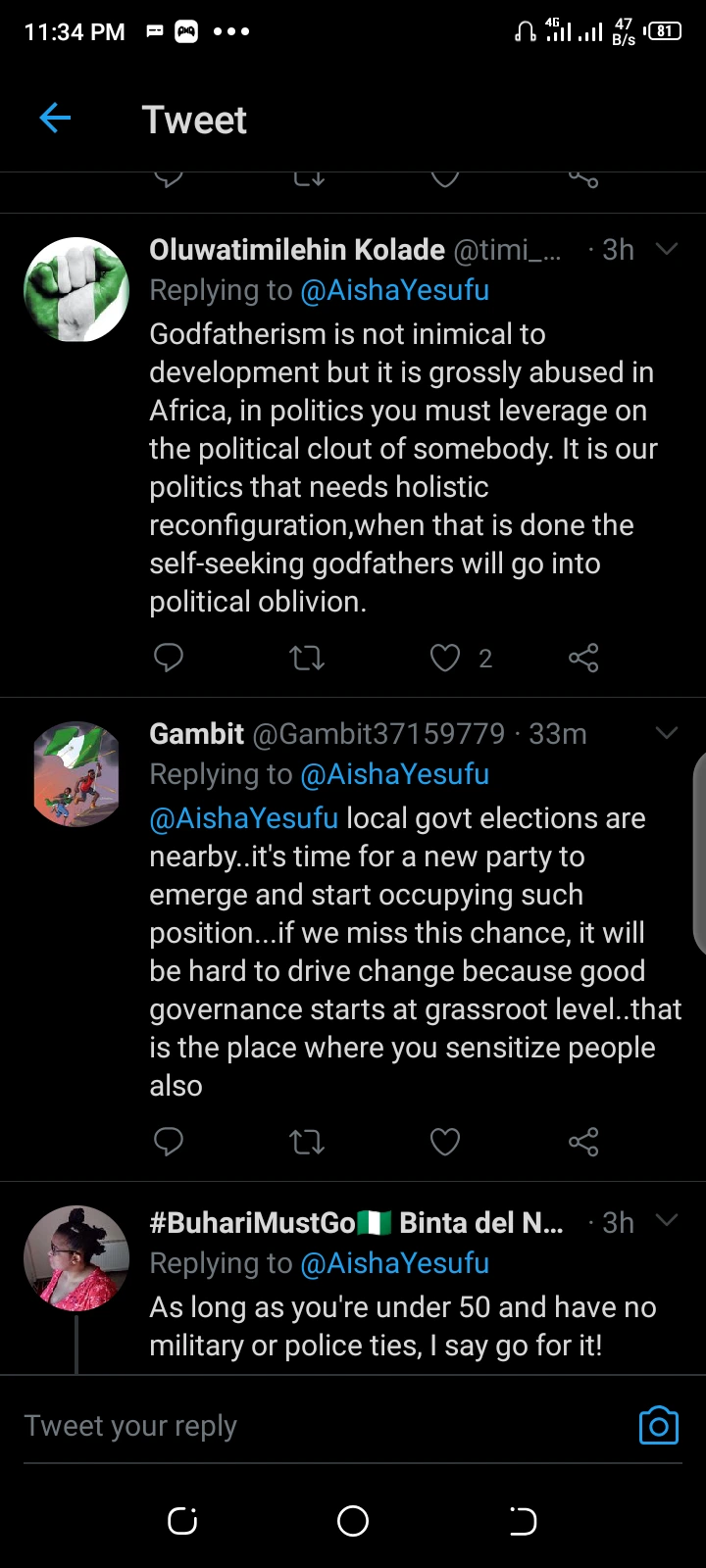 @Emmysite "I really appreciate ur kind of mind for the betterness of our nation. God bless u ma. My prayer for u is to b like TY Danjuma, he didn't talk politics but politics is in him. No man on earth that can stand in his way. I believe one day I will meet u ."
Remember After the EndSARs campaign that happened sometimes last, with the way and manner Aisha Yesufu and other Celebrities backed the youth. They have been lots of advice on who should be representing Nigeria come 2023.
It didn't take long before a picture of Aisha Yesufu and Pastor Was seen online. Even though the picture was a fake print out not really a campaign poster, lot's of Nigeria's especially youths were pleased with what they saw, as they encourage Mrs. Aisha yesufu to contests for a post in Nigeria Government.
Aisha yesufu might have disappointed her fans who wanted to contest for the post of the Vice President, but as humble as she is, she preferred fighting with her last blood to put the right person in a political position.
What are your thoughts on this, drop your comment in the comments section below.