The popular Instagram celebrity, Ramon Abass is popularly known as Hushpuppi is currently facing criminal charges in the United States.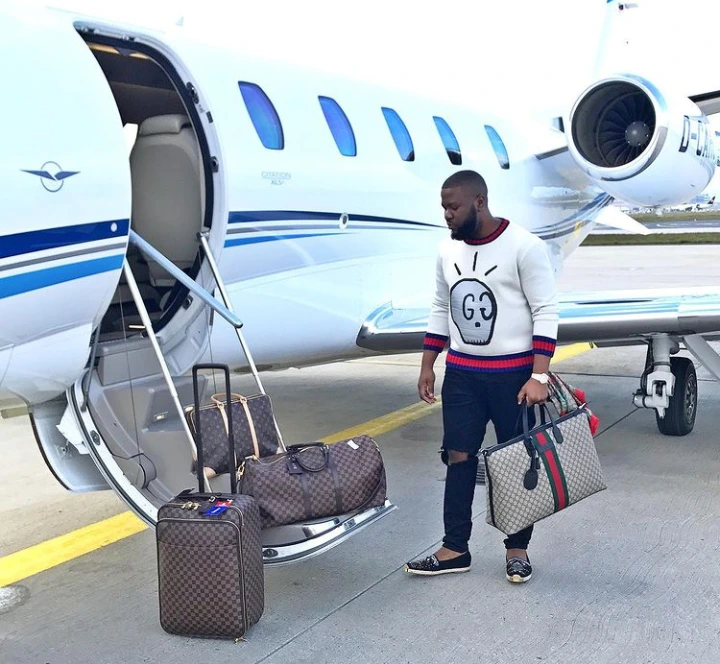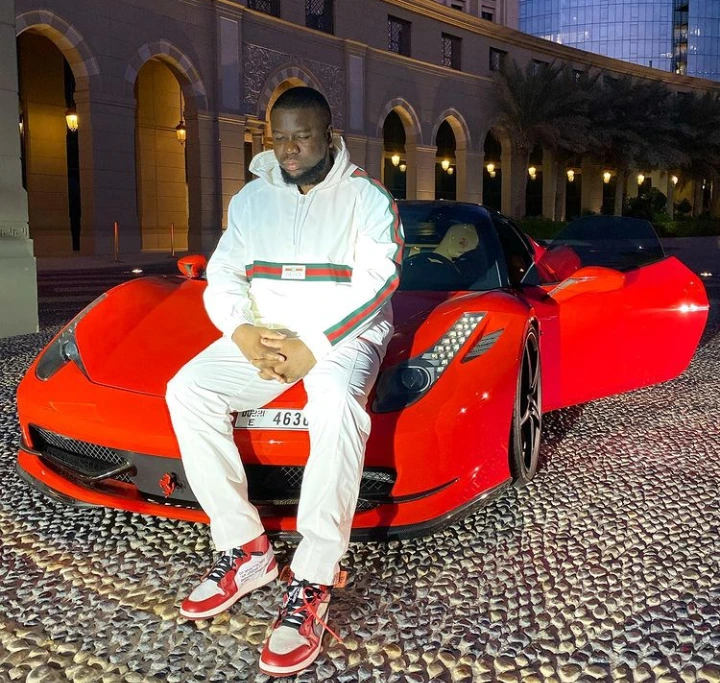 Hushpuppi has been charged for conspiracy to launder money obtained from business email, compromise fraud, and other scams.
The case is becoming more serious because if he's found guilty in the court of law, he's likely to spend years in prison.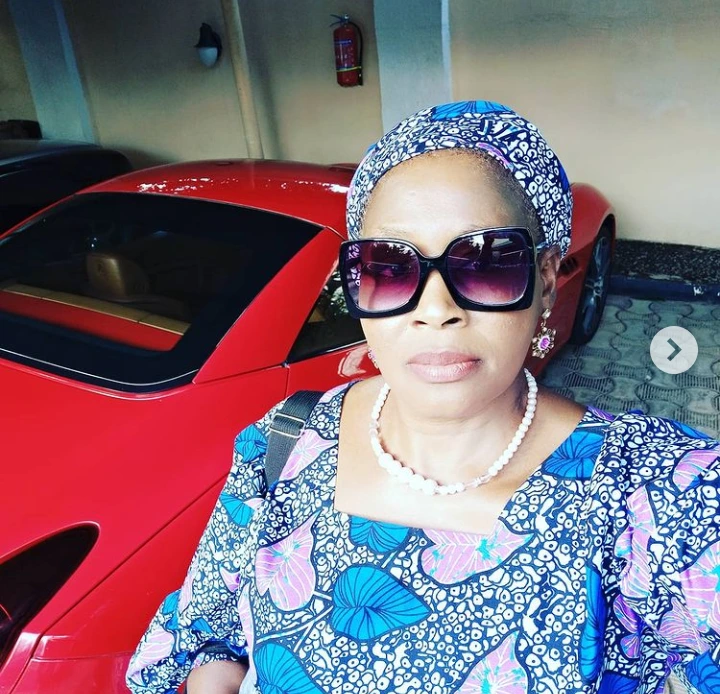 (Dr. kemi Olunloyo)
The popular Nigerian Journalist, Dr. Kemi Olunloyo allegedly reveals that Hushpuppi has mentioned a female media personality for helping him launder millions of dollars for him to hide and move around for business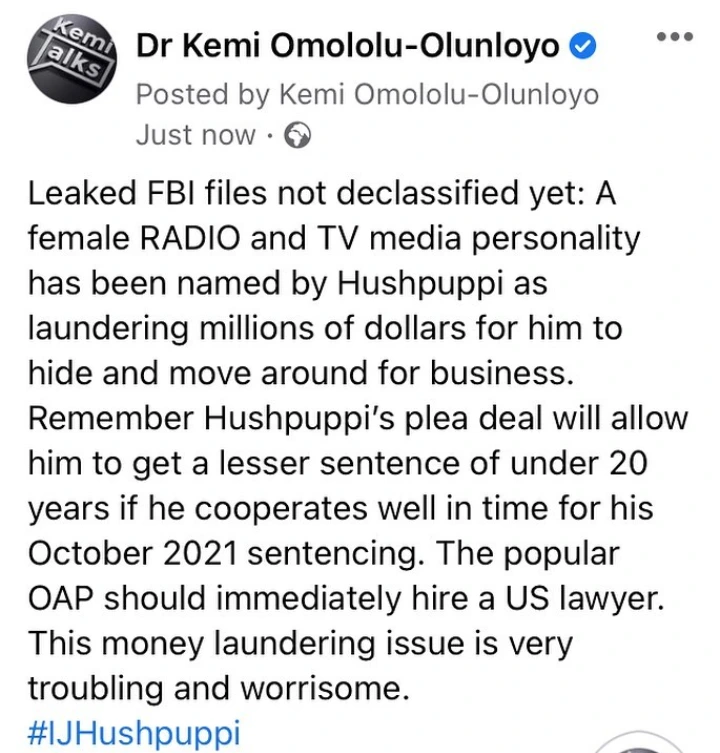 In Dr. Kemi Olunloyo's message, she advises the On-Air Personality to immediately hire a US lawyer because the money laundering issue is getting serious.
Recall that, Hushpuppi was linked to the already suspended Deputy Commissioner of Police, Abba Kyari for collecting bribes from Hushpuppi
On the other hand, Abba Kyari says  He only acted as a debt collector for Hushpuppi, and did not collect  N8m bribe from him. 
The disgraced police commissioner was suspended on Saturday.
Abba Kyari on Tuesday denied collecting bribes from Ramon 'Hushpuppi' Abbas to detain a gang member Chibuzo Vincent, saying the notorious fraudster only sent him receipts of N8 million transaction to help him recover a loan.
Mr Kyari's comment marked a stark breakaway from his initial defence following his indictment by the United States. The police chief had initially claimed in a Facebook statement on July 29 that he had no ties to Hushpuppi, saying the con artist only sent him N300,000 to help him purchase native wears.
But following Peoples Gazette's report of how he collected N8 million from Hushpuppi, Mr Kyari edited his Facebook post on Tuesday night and changed his story as he came under widespread public ridicule and police administrative action. He said the N8 million reported by The Gazette, which was subsequently reported by other media outlets, was for him to collect as an outstanding debt owed to Hushpuppi, and not as a bribe for him to hold Chibuzo for the scamming of Qatari businessperson to pull through as alleged by the FBI in court filings.
"Nobody demanded or collected any money from Abbas Hushpuppi. He can be interviewed Publicly in the Presence of world media by the people holding him to confirm this. He also called for another case in June 2020 and complained about a financial transaction with a second person whom he said his friend sent 8million naira to and pleaded for his friends money to be recovered.
"He sent transaction slips and other evidences to prove their case against the person, All these can be verified from the Hushpuppi since he is still in Custody. And it can be verified from person who collected the 8million naira from Hushpuppi's friend whom they complained about is alive and is in Nigeria. Generally Whatever investigation steps/Tactics that is being taken in most cases especially on the Parties in this type of case from January to June is not for public consumption. This is the true story," Mr Kyari said.
Barely four hours after changing his story, Mr Kyari deleted the entire post from his Facebook page. He did not return The Gazette's requests for comments about his decision to take down the statement.
MoreSo, Police Service Commission HAs RevealED Why Abba Kyari Could be Sacked
The Police Service Commission (PSC) has disclosed that an outright dismissal is one of the penalties that can be imposed on a Deputy Commissioner of Police (DCP), Abba Kyari, if he is found guilty of the allegations against him.
Abba Kyari, a Borno-born Deputy Commissioner of Police, was recently indicted by the Federal Bureau of Investigation, a law enforcement agency in the United States of America.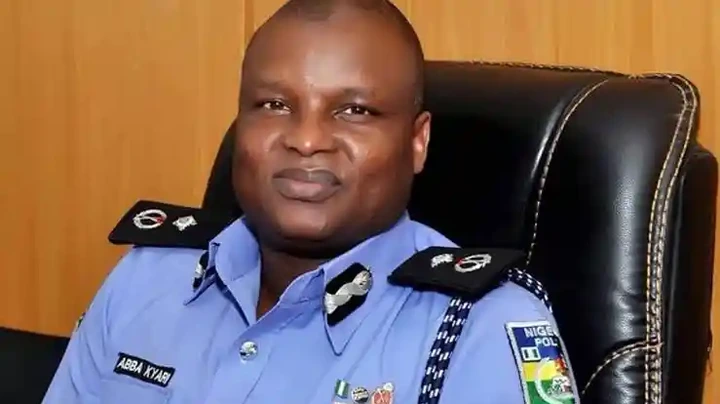 Ramon Abbas, a suspected billionaire fraudster, also known as Hushpuppi, confessed that he bribed Abba Kyari to arrest someone who outsmarted him in a $1.1 million scam.
However, Austin Braimoh, the spokesperson for the PSC has spoken about the likely disciplinary actions that Kyari might face if he is culpable.
Austin told Channels TV that the punishment for police officers who have committed infractions includes a warning, reprimand, severe reprimand, reduction in rank, and outright dismissal.
The police officer said it is sad that crime fighters sometimes end up being entangled in negativity. But the PSC spokesperson pointed out that it is not right to conclude that DCP Kyari is guilty since he has not been prosecuted under Nigerian laws yet.
He stated that Kyari's indictment by the US court needs to be subjected to the Nigerian laws first to verify if the police officer is guilty as alleged.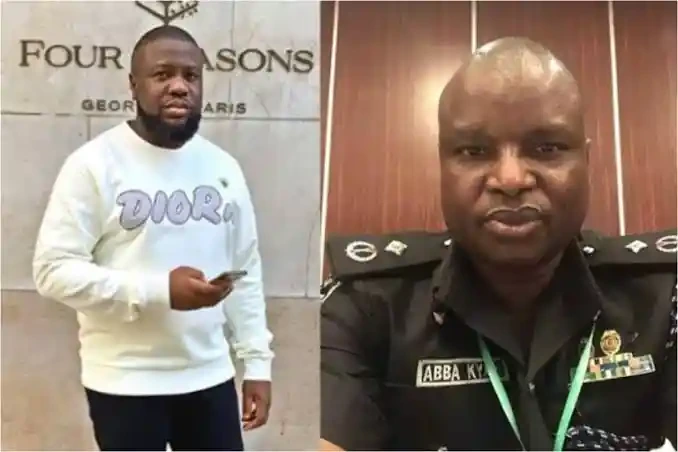 Austin noted that it will be unfortunate if the once celebrated police officer is found guilty of the indictment.
Meanwhile, Following his suspension by the Police Service Commission (PSC), the embattled Deputy Commissioner of Police (DCP) Abba Kyari is set to more trouble.
This is as the United States has requested for the pre-trial detention of the suspended head of the Intelligence Response Team (IRT).
According to papers filed at the United State District Court for the Central District of California, the US government is entitled to detention hearing if the defendant risks fleeing.
The court papers sighted by Daily Trust indicates that the documents signed by Acting US Attorney, Tracy Wilkinson and two other officials were filed on Thursday, April 29.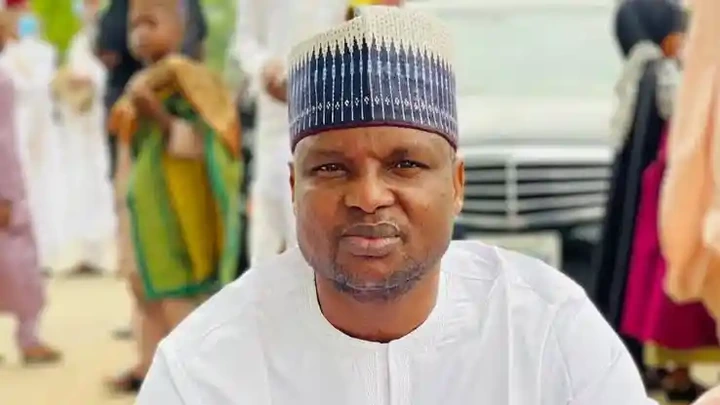 In the same vein, a popular human rights lawyer, Chief Femi Falana, SAN has called on the Attorney General of the Federation (AGF) and minister of justice, Abubakar Malami, to follow and process an extradition request from the United States concerning Abba Kyari.
As the head of the Police Intelligence Response Team (IRT),Kyari's team burst and arrested many criminal gangs in the country which earned him a special commendation and legislative session from Nigeria's House of Representatives..
Falana said the Special Investigative Panel set up by the Inspectior General of Police on the matter under review should do a thorough job.
Speaking during a phone interview with African Independent Television monitored by Premium Times newspaper, Falana stated that Abba Kyari is the product of a failed system.
His words:
"To put an end and close this ugly chapter, the investigation must go beyond the indictment by the FBI,the matter must be investigated locally, and Kyari shall not just be handed to America.