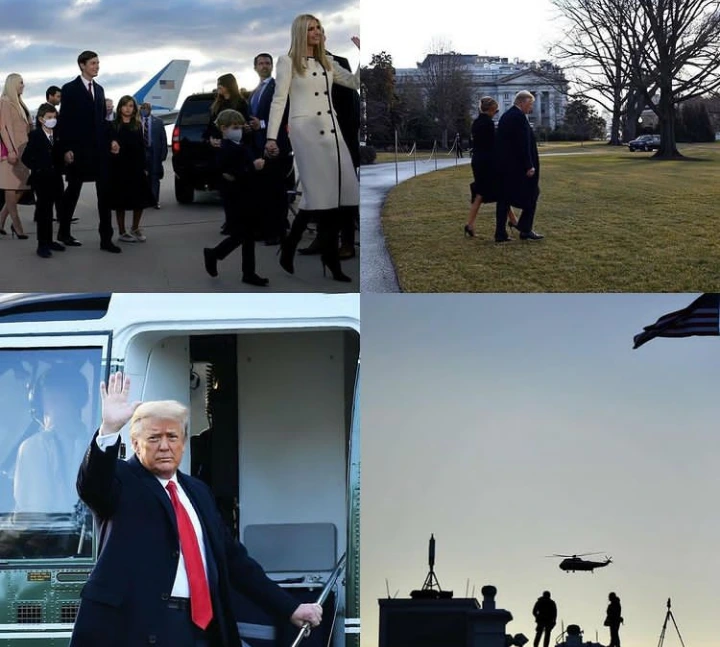 It was indeed an emotional moment as the immediate past American President, Donald Trump vacated the White House with his entire family, which included both his immediate and extended family. This comes after Joe Biden and his Vice, Kamala Harris were sworn into office today, January 20, 2021.
Recall that Trump was defeated at the polls during the November 2020 US Presidential election by the Democratic Party candidate, Joe Biden. In spite the fact that election was marred with lots of controversies, accusations and counter accusations, Joe Biden eventually emerged winner of the keenly contested election.
Many persons had thought that Donald Trump wouldn't consent to a peaceful transition going by his utterances and some other actions, especially after he lost the election. But all that thoughts and fears were defeated today as Biden became the 46th President of the United States of America.
Unfortunately, Donald Trump's time at the White House finally came to an end today, and this evening, photos have emerged as him and his beautiful family were leaving the seat of power after four years as the US President.
Meanwhile, several persons have been reacting to the latest development. Some other person expressed joy and happiness as he leaves the White House, while some others were unhappy and sympathized with the Ex-President.
"This one touch me, I don't know if I should cry or laugh," @iamflorencechioma commented.
"He'll be back in four years time and he'll loose again," @dumebiblog wrote.
"Pride comes before a fall," @quickbrownies.ng wrote.
Below are more photos and reactions as Trump vacates the White House along his family…