Etsu-Ndagi said he immediately called Bello, who is the Commanding Officer, 65 Battalion, Bonny Camp, Victoria Island, and he (Bello) told him that he only fired blank ammunition into the air.Mr Babajide Sanwo-Olu, around 7.23pm on October 20,2020 informing him that a certain Lt Col Bello was reportedly shooting at the Lekki tollgate where #EndSARS protesters were gathered.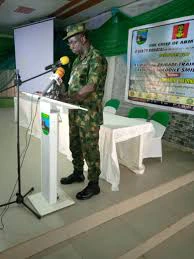 Etsu-Ndagi, who is one of the top four military officers listed as witnesses of the Nigerian Army before the Lagos State Judicial Panel of Inquiry probing the Lekki tollgate shootings, stated this in his statement on oath filed at the panel's registry on Friday.
The top Nigerian Army officers insisted that soldiers never shot at or killed anyone and there was no massacre at the Lekki tollgate on the night of October 20.
They vehemently denied using live ammunition on the #EndSARS protesters who gathered at the tollgate, adding that soldiers did not take any dead bodies away.
Bello said the protesters were, in fact, happy to see the soldiers at the tollgate, adding that he personally offered the protesters water and drinks while persuading them to go home and observe the 24-hour curfew declared by the Lagos State Government.
The other army officers who deposed to witness statements before the panel are the Commander of 81 Military Intelligence Brigade, Victoria Island, Lagos, Brig Gen Ahmed Taiwo; the Chief of Staff, 81 Division, Nigerian Army, VI, Lagos, Brig Gen Nsikak Edet; Commander, 81 Division Garrison, VI, Brig Gen Francis Omata.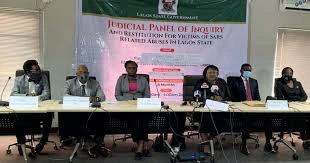 Specifically, Omata and Bello told the panel that by the time they arrived at the tollgate, the protest had turned from peaceful to violent.
The member said it amounted to "the greatest act of provocation for the government to freeze their bank accounts, seize their travel documents or even arrest the #EndSARS protesters since they embraced dialogue by agreeing to serve on panels set up by the government.
"If this should continue, how will the panel get witnesses to come out openly to narrate their experiences? The government should set good examples and not carry on as if there is no law regulating human affairs. We expect the government to reach out to the youth protesters to resolve all issues with them. The panel cannot sit under the present circumstances.