In this article, we will be looking at the reaction of Nigerians after Femi Adesina revealed that President Buhari addressed Lekki Toll Gate issue,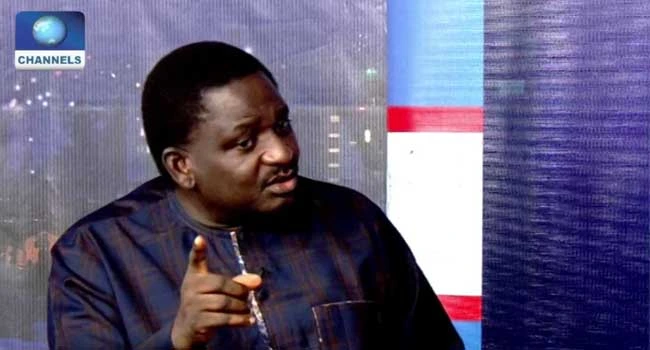 Femi Adesina, is the special adviser on media and publicity to President Buhari. He was interviewed this evening by Seun Okinbaloye on Channels Television on the program, Politics Today. No doubt Seun Okinbaloye is a well respected Journalist and TV correspondent, he interviewed Femi Adesina with a good sense of professionalism, at a point it seemed Femi Adesina was a little bit frustrated as Seun Okinbaloye tried to get a direct answer from Femi Adesina.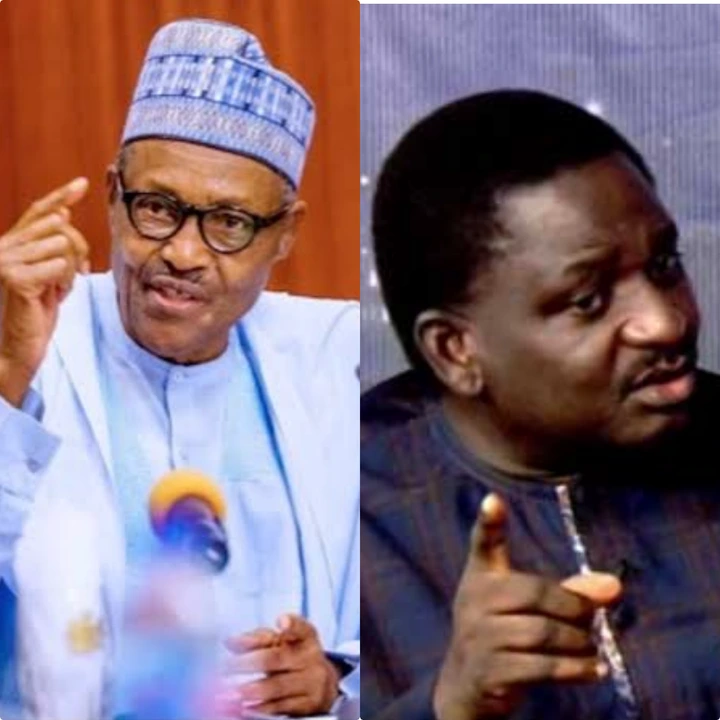 One of the questions Seun Okinbaloye asked Femi Adesina, that we will be looking at in this article, was the on the incident that happened at Lekki, Seun told Femi that Nigerians were a bit disappointed that President Buhari didn't talk on the Lekki Massacre issue, Femi replied Seun and told him that President Buhari talked on the issue, he said President Buhari talked on the International Community and both of them (Femi Adesina and Seun Okinbaloye) are fully aware that it was about the Lekki issue of which the International community made clear their stand and showed support to the #EndSars protesters.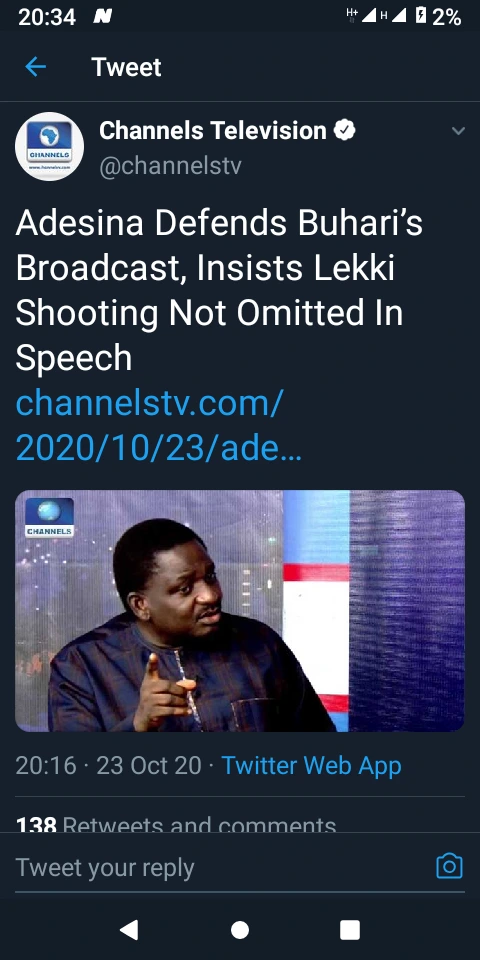 Femi Adesina kept on insisting Buhari addressed the Lekki Toll Gate issue despite the pressure from Seun Okinbaloye, who from his own view, didn't see President Buhari address the nation on the Lekki Toll Gate massacre, see the screenshots of the reactions from Nigerians below;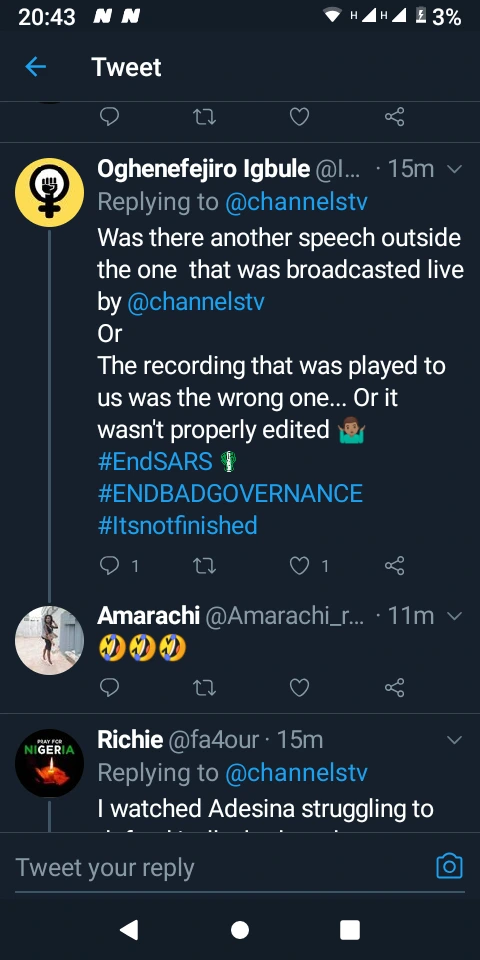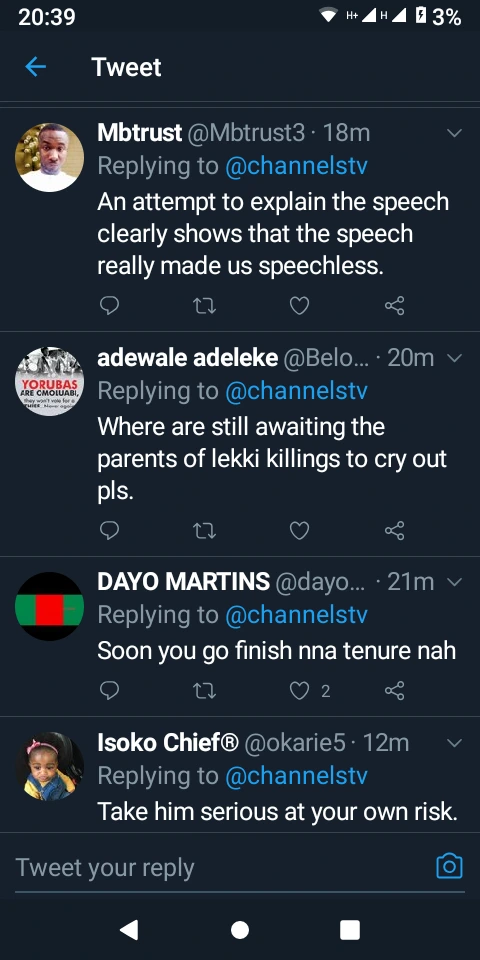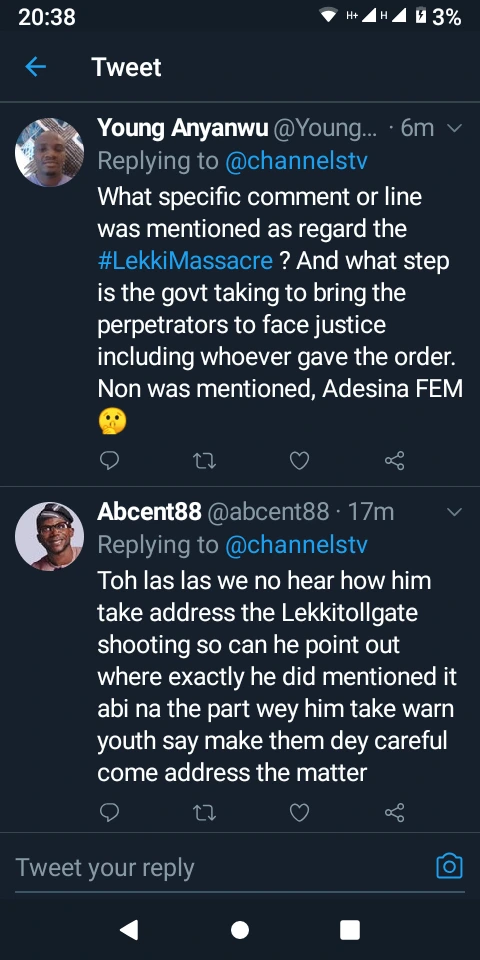 In my opinion, Buhariy speech on International community, didn't necessarily mean President Buhari addressed the Lekki Toll Gate issue, what do you think?