This story will leave you shocked and in tears…….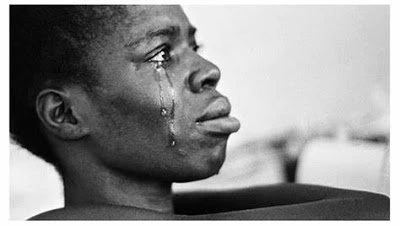 The Narrator is a Blog Visitor …………….
She says…………….


"Back in 2013 my brother had a shop at mount olive plaza main market onitsha where he sells ladies wears imported from india….
He engaged one of his friends with his business activities and encouraged him to learn the trade from him and start up his own. His friend embraced the idea and joined him.
On his last trip to india, his friend told him he'll like to come with him and do the shopping alongside . My brother agreed to that and asked him to inform his family he told us too and they set out weeks later.
His friend exhausted his money on the trip and asked for a loan from my brother, he informed my mom then told his friend that the he has dollars and he wants the loan paid back in dollars too. The friend assured him that there won't be any problem, so he loaned him 10,000USD.
They arrived nigeria few days later and went about their daily business and two weeks later their cargo arrived. On the same day his friend told him his money is ready and that he should come for pick up, he informed my mom and sisters again then he set out to nnewi in the company of two friends.
He took his money, returned back to onitsha and went straight to emeka offor plaza to buy a phone for my dad and asked one of the boys with him to take the phone and 3,000 dollars home to dad.
He called my mom to give her situation report, he said
" i'm on my way to upper iweka now to pick up my goods and after that i'll come home eat, shower, change and leave for lagos, i want to buy some made in Nigeria to sell too so i can have varieties, my phone is low but be rest assured i'm coming home tonight before i leave. I'm hungry please cook".

He also informed her about the money and that he has the balance with him. My brother was such a mommy's boy. When he got to upper iweka, he called again and emphasised on his low battery and still said he's coming home. His phone battery died and that was the last we heard from him.
We waited the entire evening and night for him but we didn't see any sign of him.
We called his phone but it was switched off.We waited the following morning but there was still no sign of him and at this point, we were scared. We called his phone but it was switched off.
My brother wouldn't sleep outside even with a woman without informing any of us.
So my parents set out to search for him. They got to the park and asked about him but were told that some men dressed in mufti came to harass people, he was spotted and they found the money on him and tried intimidating him but he fought them back for his money
They told my parents that he was beaten till he became unconscious and they left with him and his other friend and if they were being honest those men came from SARS Awkwuzu.
My mother wept!

They left immediately for Awkuzu SARS but got there by 7:00pm, they weren't let into the building on the account that it was past office time and that they should come back the following day. My parents came back home, gave us update and in clear terms told us that it was going to a very difficult time for everyone of us and they're not sure what of will happen. They made calls to all their influential friends and even went to see one that night.
The following morning as early as 6:30am we had a knock, lo and behold it was my brothers other friend..
He was badly wounded, bleeding from all parts of his body, with a swollen p*nis and could barely even walk. We rushed out to him, took him in and we were all ears.
He told us everything we already know and confirmed they were taken to Awkuzu SARS…
We asked him how he got out and our brother's state
He said he recognised an officer who knew him and asked him to stay put that he would smuggle him out the following morning but that my brother was unconscious and so he couldn't leave with him.We asked if he was alive or dead he said alive.
My parents left to Awkuzu SARS in the company of my brother In law.
They left with a total sum of N15 million naira. They were made to pay 2 million to admit one of them into the compound. My father went in, while my mother remained outside the gate with so many others looking for their kids too..
He was taken straight to James Nwafor…
After rounds of denial that he wasn't there, they got a call from Emeka Offor and then they agreed he was picked but this time they said he's a criminal::
My father argued with him and told him that his son is not a criminal and that he'll go to the press.After about 2hrs my dad was asked to leave and wait outside still without seeing my brother, meanwhile my mother was outside trying to penetrate their colleagues outside to ascertain the true situation of things.They spent the rest of the day outside and Went back the following day but this time we were asked to get some clothes for him, money for food and mattress too. My mother paid for these things.We were charged #250,000 for bed space alone.
On the third day, they told my parents that my brother is dead and that they should never come back.My father asked for his corpse but was told by James to get out of the premises. The following morning they came with a search warrant to our house and an arrest warrant for my father. But before the search ensued, my father informed them that he has a gun and papers for it….
They took him with the gun leaving his papers behind and left for Awkuzu:::
On getting there James told him that he supplies guns to the criminals and that he'll be tortured till he confessed
My mother and my sister made another call to Emeka Offor who called James immediately and told him that if a single hair on my father is touched that he'll end them all.
He was released immediately and my mom and sister took him straight to the hospital because at this point he was Very weak. My parents both had blood pressure up and father had stroke.
At this point all search for my brother stopped so we could concentrate on our parents. The following day again as early as 8:00 the SARS people from Awkuzu were at our gate. We let them in and they asked my aunt screaming to stop else they would kill her, they returned my dad's guns and left.
My father was so shaken at the loss of his only son but he decided to stop all search.
Every corner of our house was cold and calm but it wasn't peace, it was pain and fear. A Few months after this we got a call from Port harcourt SARS. They said my brother was transferred the following morning to their unit because of the noise his presence caused and that we should pay money for his release.My father informed us but told them he won't come but he'll speak with them and send someone.
They agreed to call him the following night by 9pm so that he could speak to my brother because my father wanted a confirmation.
They arranged someone to act as my brother and asked him to speak to my father. My father spoke to him, he asked him questions about us and he got them right but when my father hailed in the manner they greeted each other he failed in his response.
My father called a contact in PH and asked him to follow up and find out what was happening there. It turned out it wasn't my brother and they never called again.
It's been 6 years and 7 months. I can't lie I'm hopeful. I'm Hoping he would come back one day. Or I'll see him even if he's mad roaming the streets and has lost memory. I'm really hoping…..
Why are all the Extrajudicial killings and the many evils of SARS ascribed to Just one Person……….. James Nwafor?