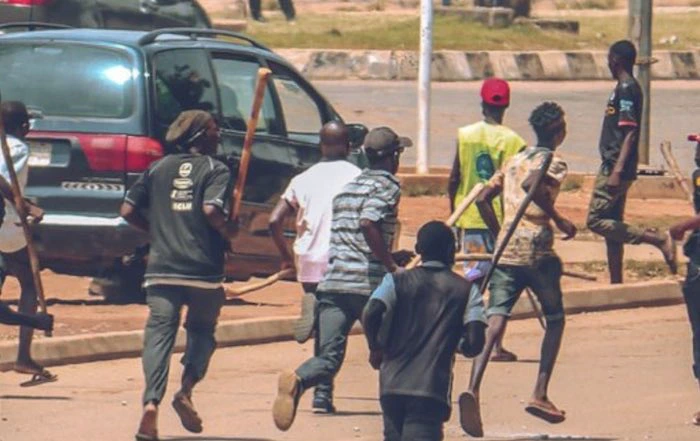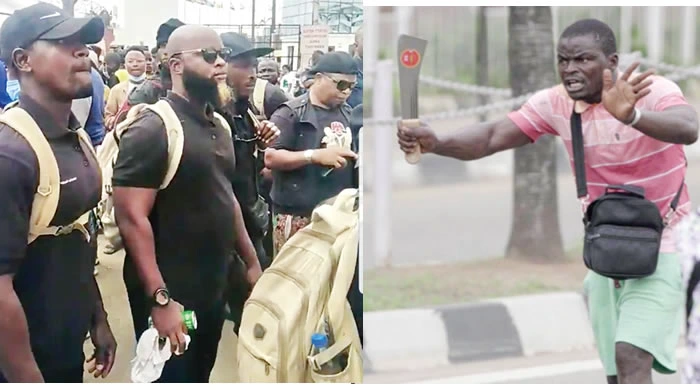 Reports emerged yesterday that some thugs attacked the EndSARS protesters in Lagos State which led to some of them sustaining several degrees of injuries.
The attackers struck with cutlasses, axes and other weapons and injured some of the unarmed protesters leaving some of them in the pool of their blood. Allegations of who sponsored them are yet to be confirmed as at the time of this report. But, it is believed that their sponsors would be identified soon and made to face the full wrath of the law with the thugs for attacking and injuring Nigerians on a legitimate and peaceful protest.
However, based on the sad experience of yesterday's attack, it is believed that the indefatigable and determined protesters have reportedly hired heavily built bouncers (guards) to help offer them protection and defend them from likely thugs and other attackers as they carry on with the protest. The protest is still gaining momentum across the country despite all the obstacles so far.
Image credit: The Punch.
In the mean time, some Nigerians have paid the ultimate price of losing their lives fighting for the cause. For those that are still alive, they are not backing down especially in view of the fact that some of their fellow compatriots have lost their lives in the struggle. It would not make any sense to back down now that heavy sacrifices have been made already without achieving the goals of the struggle.
It is also believed that the thugs and their sponsors plotted to ensure that they stop the protest by attacking the protesters with the aim of instilling fear in them to disperse and protest no more. Whoever the thugs and their sponsors are, they cannot stop the protesters as the protesters have made plans too to defend themselves.
Tweet from a a Tweeter user on the issue of bouncers hired.
Self defense is not a crime especially when one's life is under threat. Hiring bouncers to help protect them as they protest is a step in the series of other things the protesters can do to defend themselves. It is also believed that the Governor of Lagos State, Babajide Sanwo-Olu who has been backing the protesters since will do the necessary things to ensure that the protesters are protected.
Heavily built guards
Nigerians also look forward to seeing Sanwo-Olu carryout a sincere and immediate investigations to identify the thugs and their sponsors and ensure that they are punished for their evil acts to serve as deterrent to others.
What are your thoughts on this article? Feel free to drop your comments.
@ibysonmails