Nigerian stylist Yomi Casual and his wife Grace have taken to their social media pages to celebrate their 3rd wedding anniversary.
The couple dated for many years and got married in a beautiful wedding ceremony in 2017 and welcomed two lovely kids.
In the mood of celebration, Yomi shared lovely photos on his official Instagram page and captioned them with a sweet love note to his wife.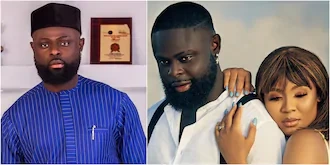 According to the stylist, he still gets goosebumps whenever he sees the beautiful face of his wife after many years.
Celebrating with his wife, Yomi said that no years can erase the special feeling he has for his wife when she walks into a room.
Yomi's wife Grace also had something beautiful to say about her husband as she noted that they have been together for 3 years as a couple and 10 years as friends.
According to her, they may not have it all together but she is glad that together, they can have everything.